Christmas event 2021
Preparation, You will need: (Bring a spade too incase)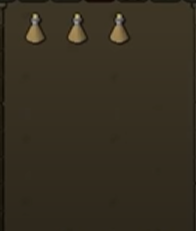 Ok so, to start this event teleport to Falador and talk to Squire inside of the White Knights' Castle. I recommend using a normal spellbook and using the Falador
teleport there, since it's unlimited Falador teleports which will come in handy for this event. A picture of White Knights' Castle will be included below.
After speaking to Squire, leave the castle and run South-West all the way and speak to Herquin in his Gem shop. Run south of his shop after speaking to him and search the snowy bushes for 2 bags of cookies, after you get those 2 bags of cookies speak to Herquin again.
After you're done there run to the middle of the Falador park north of the White Knights' Castle, you can Falador teleport from your normal spellbook. Speak to Cecilia.
Cecilia should hand you 3 presents. Run directly east of Cecilia and use the blue present on
Wyson the Gardener.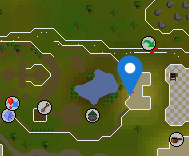 Then Falador teleport again, and run all the way east to the hairdresser. Or just run east up to you. Use the green present on the hairdresser.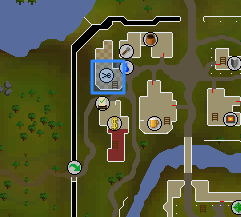 Then run all the way south to the bottom of Falador and use the red present on wayne. In the chainmail shop, the grey armour icon.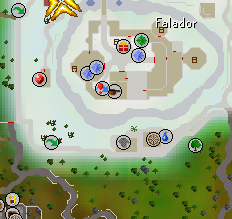 Now go back to Cecilia and talk to her again. After talking to her and she hands you a holly, go talk to Larry south of the Falador party room.

Run west of Larry's house and talk to the boy and girl. Talk to them about building a snowman. Dig piles of snow and make the balls required for the snowmen.
Boy's snowman needs: Small snowball, Big snowball, Huge snowball.
Girl's snowman needs: Humongous snowball, Large snowball, Normal snowball, Big snowball, Little snowball. (All in this order listed)
After you have all the snowballs rolled, just go over to the snow stands and spam click until you're done, then move on to the next one. Until both are built.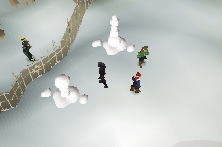 Talk to Larry after the snowmen are built and he'll give you wine, return to the Squire where you last spoke to him. Then you will complete the quest.
Rewards: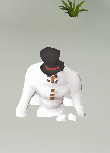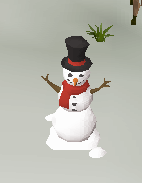 Snowman ring, turns you into snowmen of 3 variants.
Festive elf hat
Festive elf slippers
Secret Santa's present
Just wanted to say Merry Christmas Alora. Whatever you all may be going through, take the holidays and relax. Spend some time with family.