I decided to play an EIM on the side while I work on my IM. Just note that the progress will be slow as I'm not 100% focus on the account. Red is incomplete, Green is completed.

Current account goal
99 Fishing
99 Cooking
Current account task
Get access to Piscatoris Fishing Colony
60 Attack
35 Magic
43 prayer
83 Hunter
I wanted to start out the account with max fishing and cooking since they are the most afkable. At around 90 fishing, I figure that I might as well fish monkfish so that I don't burn too much of my shark, karambwan and mantas stack. I would need to complete at least the easy diary of Western Provinces. I have everything done but the "Complete 15 Pest Control Game".



BTW look at these pet drop lol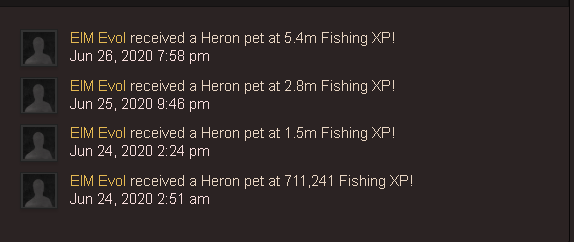 My shark, mantas and karambwan stack.





But I would need to do at least 30 damage to get points. So I planned to get 60 attacks and some magic to do "Monkey Madness quest" for a dragon scimmy.





I have been using a steel sword so I wanted to get to 80 thieving for that addy scrim upgrade at stall.

But then I thought why don't I get 83 hunter and go to puro puro for a rune scimmy and also some dragon bone for 43 prayers.

Current stats and playtime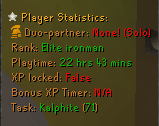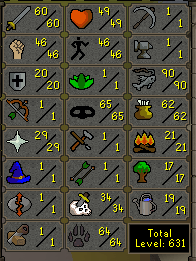 Ignore the other random level. Those were from me partaking in skilling pet event. Agility was from barbarian fishing.

Thanks for reading my EIM progress. See you in week 2.