​Kingdom Management
By Rowy


Hey everybody lately i've seen a lot of newcommers struggle with Kingdom management
So wanted to make this guide for an easy way to get started on your daily way to great resources.

First off Kingdom management is a great way to have a stable flow of resources for skilling on your account.
And luckily on Alora it's super easy!

To get started you need




NOTE THE EXACT AMOUNT NEEDED FOR 1DAY IS YET TO BE ANSWERED WILL UPDATE WHEN AN ANSWER IS RECEIVED BUT THIS IS A GOOD BASE
Is the amount needed for 12 hours of resources which is the bare minimum for anything.
A good way i've found is fill your coffer with 9m+ from saturday to friday let it sit, claim on friday use the resources on BXP weekends.
*** TRYING TO PUT LESS IN WILL RESULT IN NO RESOURCES AND MONEY GONE***

Now let's get started first off head over to the kingdom using,
Skilling teleports ---> Bottom row ---> Miscellania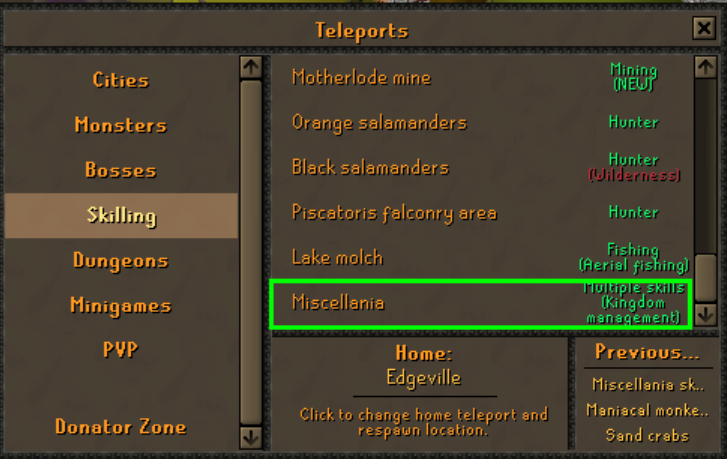 Speak to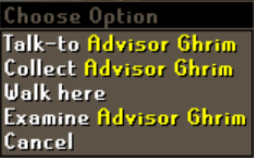 Roaming the floor you've teleported to
Click talk go through the dialogue using first option then the second,




Doing this will bring up the interface shown below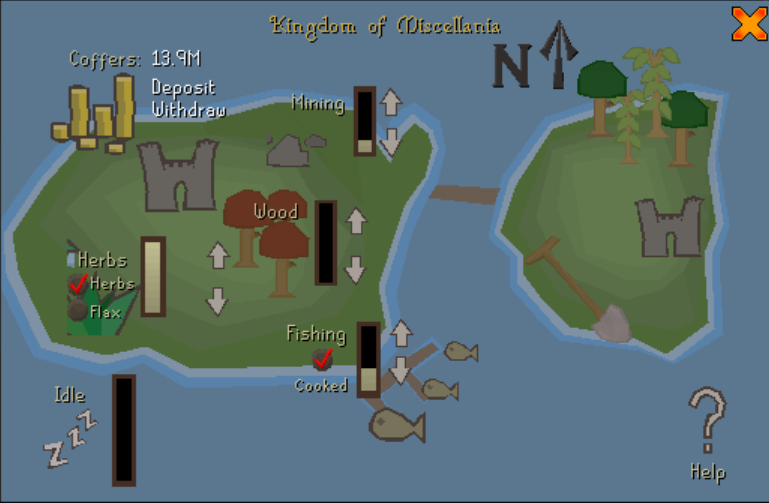 On here you can see how much is in your coffer and which resources you would like to receive, for fishing you can also use the option
cooked to have the food cooked upon claiming
On herbs you can also choose flax but really, no reason for that.

The amounts set on there is the way i like to have it set up, which focuses on herbs and has mining and cooking as bonus.
You can however choose whatever you want, if you want 100% mining resources simply, use the arrow down on the slots u have filled then use arrow up on mining,
Now let the kingdom sit while it gathers your resources for 12+ Hours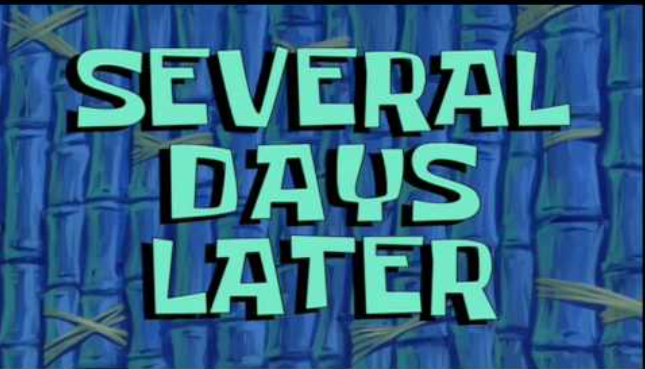 Now the fun part that isnt putting your beloved money into a coffer to dissappear



It's time to collect go back to miscelania using the first steps.
Right-Click collect on Advisor Ghrim

This is loot from 2-days on an account that goes 100% herbs and the last bit on raw fishing.
Thanks to @GIM_Mini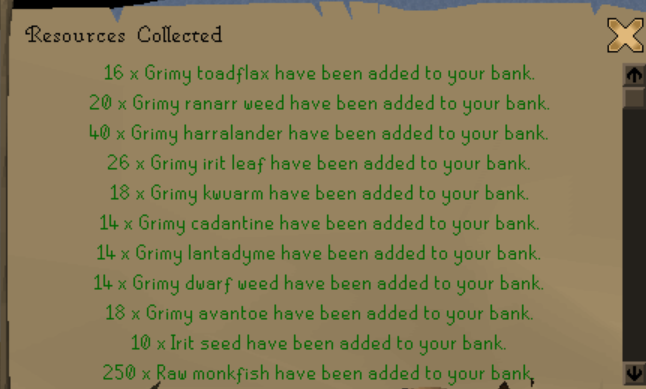 +140 raw sharks

As you can see this is just beautiful, for doing nothing.

Anyways thanks for reading my first guide, feedback is very much appreciated.
Thanks to #ICE Cc for telling me to make this guide
Have a good day and happy farming!