Ladies and Gentlemen, we are back with your favourite monthly news blog - Paragon Times! This time for the month of August!
We're an all game modes clan that prides ourselves on being a positive and supportive family for all our members.
If you're interested in joining us on our crusades feel free to apply on the link below, we can't wait to meet you!
Paragon - PvM/PvP/Skilling - All Game Modes - Other Clans - Alora RSPS | Oldschool MMORPG
THE WILDERNESS FILES
Spoiler
RECOGNITION OF ACHIEVEMENTS
Spoiler
PETS OF AUGUST
Spoiler
RAID ADVENTURES
Spoiler
PARAGON BEST MOMENTS AND TOMFOOLERY
Spoiler
PARAGON BINGO
This time time around we not be signing off with awards. Instead we will provide a small showcase of Paragon's BINGO Event!
Over two weeks a combination of four-man teams and one-man teams grinded it out to score the most points in order to win our bingo event.
Our total prize pool was at a whopping

FIFTEEN BILLION GP
The Top 3 teams and the Top solo will be awarded fairly and very generously.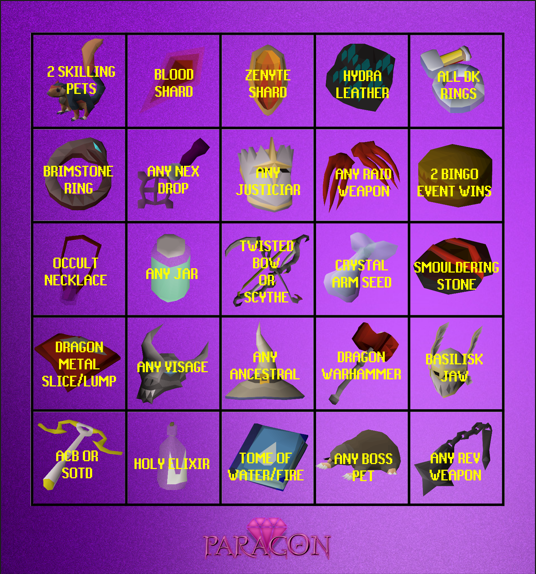 The event begun as normal, each member begun their grinds in hopes of winning the spoils.
At an early stage Humble Noob and his 'Aus Boys' team took the lead with a mega-spooned drop;
Humble received his THIRD twisted bow in just 83 total kc, look at this ridiculous log;
From there on it was a nail biting finish for 2nd and 3rd, with 4 teams only being apart but <100 points.
However the final standings were as follow;


AUS Boys - 2350 pts
Humble Noob, WPN, Noa, JT
#FAFO - 1650 pts
1 Def Fiji, Selenagomez, Sit, 17
bitch VORKATH - 1575 pts
W, Marg, Andy, lebong james
Lastly, our Solo winner;
Will Die to an Alora Feature - 1000 pts
We appreciate you for taking your time on reading our post, we wish you best of luck in-game and hope to provide more content in our next post!
Don't forget to click the link at the top if you wish to join our clan!