Credits: @Classic

Credits: @Noobs Smite

Hello GAMERS,
We are less then a month away from Alora's 5th Anniversary!
Alora has been officially up since November 4th, 2016. I've not been around since the start of Alora but I can say since I joined in 2018, that we have the best & strongest community in the scene. I'm really thankful for all the people I have met in the game & on the staff team. It's been a blessing to have grown with you gamers, and I appreciate every single one of you that makes Alora what it is today.

Big shoutout to @Omicron, @Lowkey, the Staff team, & most importantly this community of GAMERS for keeping Alora going for almost 5 years!
Similar to last year, we will be hosting a giveaway on top of the drop party we will be having. For everyone who leaves a like on this topic, you will be entered to win 1 Cosmetic/Ultimate MBOX each! Only 1 entry per person as we will be checking (no liking on multiple accounts, they will NOT count and all of your accounts will be disqualified). There will be 5 total winners so everyone that likes the topic will be put into a random number generator and rolled, if it lands on your number, you will win the prize. Best of luck to everyone!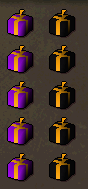 One last thing before the drop party details are explained below. We created a forum award for those who donate towards the drop party. If you donate 100m+, you will be eligible to receive the forum award. Post a picture of the donation trade here: https://www.alora.io...1-forum-awards/
DROP PARTY DETAILS:
Date of Drop Party and Giveaways: 11/7/2021 (Nov. 7)
Location of Drop Party: ::event
Time of Drop Party: 2PM EST (7PM Server Time)
If you wish to donate to this drop party, Pm myself or any Admin in-game or on forums and you will be given a shout out down below. Thank you to everyone who has donated/will be donating! We hope to see everyone there, once again thank you for supporting Alora.
Bank picture as of 11/5/2021:
Donations (will be updated as we get donations):
63.6B - Entire Alora Staff Team
5.05B - @Xp Monster
4.5B - @99
2B - Oh Hi
1B - @fittboberg
1B - @Arosa
750M - @Amica
700M - @Gimslaving
600M - @strudelle
500M - @Ky
500M - @Livn Country
500M - @Sagacious
475M - @f1nally
450M - @To gain
420M - @AmrH420
420M - @Moe
325M - @kdcarmichael
300M - @Sassa fras
300M - @Clappy
250M - @Q
250M - @J boogs
230M - @Real Alan
220M - KingCasper
200M - @Lowkey
200M - @rip joey
200M - @Fiji
200M - @ Call m Daddy
200M - @Adex
185M - @Spudmo
150M - @Miq
150M - @R E Z Z
150M - @Real Xi
150m - NotFizz
135M - @Animals
130m - TenFour
125M - @MesutBrozil
125M - @Luka Doncic
125M - @gim crohn
125M - @hc ashley
120M - @BACK2EDGEKID
105M - @Not Magnata
100M - @In Motion
100M - @Jon Zoo
100M - @Grindmanmode
100M - @ Dedicated
100M - @GIM SSS
100M - @Classic
100M - @Brambo
100M - @Shader
100M - @jalapeno
100m - 500kg
Videos from previous drop parties: