G'day everyone,
Just thought I'd put this here for those who are curious on Tempoross and it's loot.
For the time being I've gained 50kc which has given me 1,271 permits.
I aimed for roughly 20,000 - 22,000 points.
They provided 28-31 permits.
Time per game roughly 20 - 26 minutes.
Obviously these numbers to get broken at times when you afk too much.
If you're looking at getting into this for the first time, check out the wiki to get a basic understanding;
https://oldschool.ru...iki/w/Tempoross
Then Real Alan's guide of what method you should use.
https://www.alora.io...empoross-guide/
Also using the vote book will help gain points a lot quicker in a shorter duration.
Enough talk, here is the loot.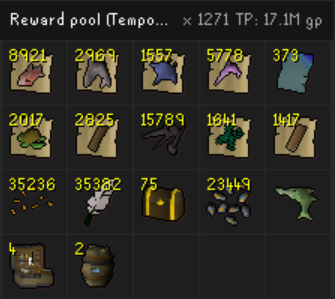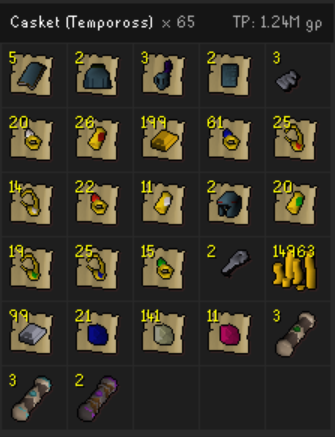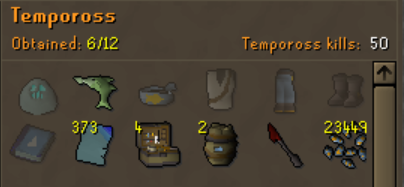 The first 271 I used no boosters.
The remaining 1,000 permits I used a Drop booster and Pet Booster. Oddly enough 30 minutes is the exact time to fish 1,000 reward permits.
As you can see, I was lucky and also unlucky with the rares.
This game mode seems pretty nifty, it's fairly afkable and provides some good resources for low level training as well as some hidden gems like opals, silver bars (slayer / pking) and the sea turtles / Manta's.
Hope this helped and if you didn't like reading this, go step on a lego.
Edit:
In addition, if you use 3,000 Spirit Flakes on your heron - it will become blue. (Wearing the spirit angler outfit in the picture)