What is your suggestion?:
Re-adjust Nightmare / Phosani Drop Rates
Is this in OSRS?:
No, but finding a team to do regular nightmare is much easier on OSRS than it is currently on Alora.
Even during bonuses it's difficult to find a nightmare team.
Players prefer to run phosani and fail to realize that massing regular nightmare yields drops at a much faster rate.
Has this suggestion been accepted already?:
No
How would this benefit Alora?:
It's been 11 months since the last nightmare / phosani drop rate adjustment (4/20/22 - topic 78241)
Back when nightmare was new content, finding a team was significantly easier.
Now, it's an absolute hassle.
The reward rate at nightmare and utility of drops is so low that most players can't justify the time investment.
This is why the nightmare rates need to be further adjusted on Alora.
At 8 minutes / phosani -> 813 phosani / expected orb drop -> each orb takes 4.51 days of constant playtime.
At 5 min / regular nightmare -> 487 nightmare / expected orb drop -> each orb takes 1.69 days of constant playtime.
Note - it takes a group of 4+ to make 5 min nightmares possible - something that is hard to pull off on a RSPS
Even if you could assemble a team, it's ridiculously hard to keep that team running.
Most times, teams don't even make it to the end of the server nightmare bonus.
As a result, I urge the community to consider rebalancing the time investment it takes for each nightmare drop.
Below is a sceenshot of the current Nightmare/phosani drop rates.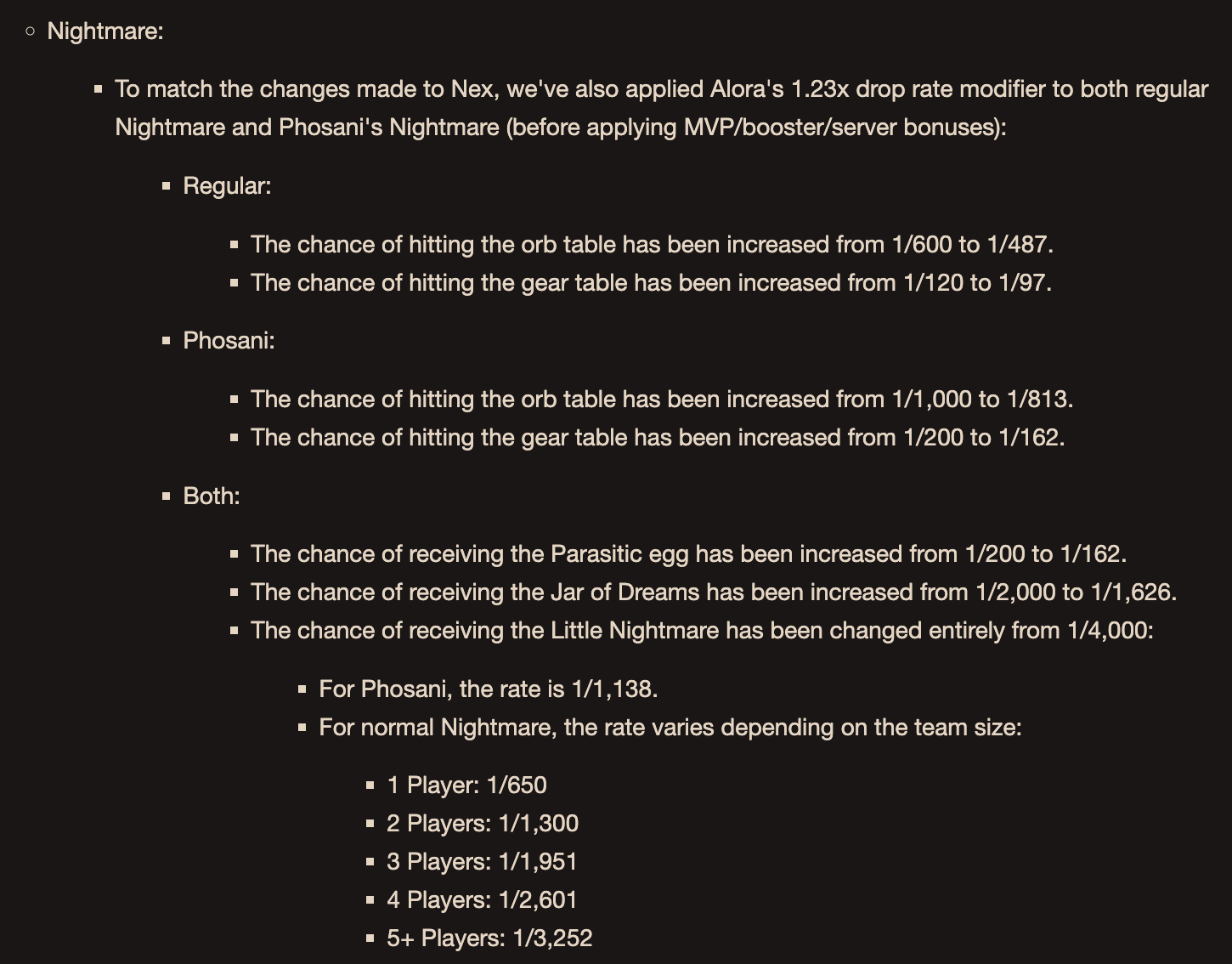 At the very least, I hope to convince players to invest time into massing regular nightmare instead of solo-ing phosani.
If you don't need a parasitic egg, nightmare drops are much faster to obtain from massing regular nightmare.
Just check the math.